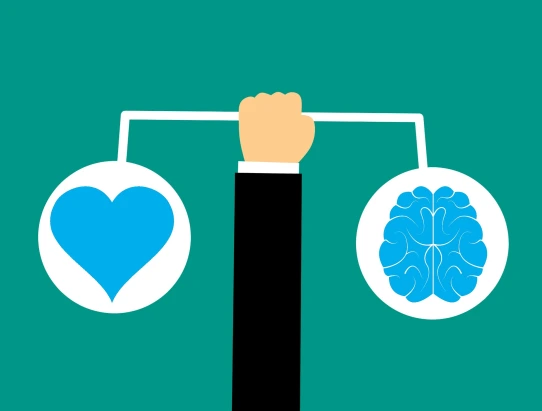 one can become angry, that is easy. But to be angry with the righe person, to the right degree, at the right time, for the right purpose, and in the right way, this is not easy. (Aristotele, The Nicomachean Ethics)
What is emotional intelligence?
If we search online for a definition for emotional intelligence, we can found this definition: "Emotional intelligence refers to the ability to identify and manage one's own emotions, as well as the emotions of others".
Emotional intelligence plays an important role in our daily life and can be defined using four attributes:
self-awareness, the ability to understand our own emotions recognize our strengths and our weakness and how these emotions affect our job and our relations
Self-management, the ability to manage our emotions and our behaviour in a productive and efficient way
Social awareness, this skill is directly related to empathy, you can understand other people emotions, you recognize and understand the power and the dynamics of a group of people
Relationship management, you can have a good relationship, you can communicate clearly and efficiently, and you can influence others and you can manage conflicts in a correct way
The importance of emotional intelligence for your success
My main job is as a Software Engineer, and of course, I daily interact with other team members. In this context, emotional intelligence is more important the IQ.
The why can be easily understood if we think about the four attributes of emotional intelligence.
When we work as a team, have good relations with other members of the team and understand what help others to give the best, is the golden ticket to drive the team productivity.
A recent study from Havard University and released by the National Bureau of Economics Research highlight the importance of emotional intelligence instead of IQ when we work as a group.
The study was made with 255 volunteers and evaluated using a standard test for intelligence and personality, the study shows how people with high EQ are more consistent instead people with only a high IQ.
The reason is simple, people with high emotional intelligence are able to understand how another member of the team feeling simple seeing their face, or during the meeting, they are able to "feel the room temperature" and because of that they can solve the conflict first this start and made all the member of the team motivated.
What makes emotional intelligence so important for our workplace is the capacity to be able to cool down under stress and because of that, people with high emotional intelligence are more successful instead people with the only IQ.
If we want to summarize what emotional intelligence can be useful for us this will be:
Help to make better decisions and a better process for problem-solving
Help us to stay calm under pressure
Help us to resolve conflict
Help us to listen better, and because of that to communicate more effectively
These are just some of the benefits brought to us by emotional intelligence.
How we can improve our emotional intelligence
How we can see emotional intelligence is an important skill to add to our repertory.How we can see emotional intelligence is an important skill to add to our repertory. Unfortunately, not everyone has the same level of emotional intelligence, but luckily for us, we can learn how to improve our emotional intelligence.
If we want to improve our emotional intelligence we can follow some simple strategies:
learn how we react to different situations, why we react in this way? what emotion trigger us? Do we have some bias? what are our beliefs? This can be done with journaling, for example, journaling is a great way to analyse our behaviour, you can have a small introduction about journaling in my previous post
Do a test to understand our weaknesses and our strength, for example, we can use the Gallup test in order to identify our weaknesses and strength
Examine how your behaviour impacts others, this helps you to raise empathy
Ask for feedback, this can be scary and for sure out of our comfort zone, but ask for feedback is a great way to collect information about ourself
These strategies can help to improve your emotional intelligence, but this is nothing we can do is not an easy task and require a lot of work on ourselves, this means leaving our comfort zone and investing a lot of energy in ourselves.
Personally, when I start my journey to improve my emotional intelligence, I start to read literature around that, one book I highly recommended is Emotional Intelligence: Why It Can Matter More Than IQ by Dr Daniel Goleman, this is one of my favourite books on the topics. But online you can find a lot of documentation on this topic, the important is to start the journey.
Conclusion
How we can see emotional intelligence becomes a very important skill to have in our "toolbox". Luckily we can learn this skill and we can improve our emotional intelligence and this can help us to have a better quality of life not only in our work but as well in our private life.